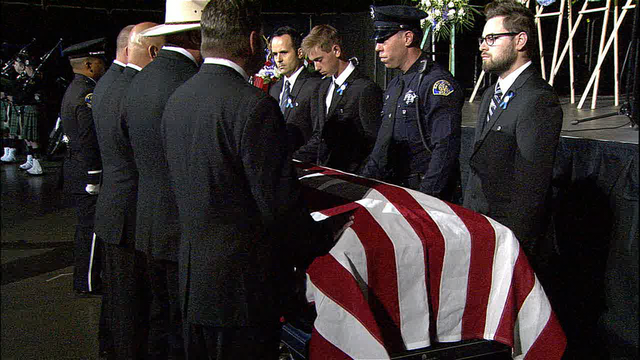 Over one hundred police officers from allied agencies throughout the Bay Area volunteered to patrol the streets of San Jose on Tuesday to allow hundreds of SJPD officers to attend the funeral of fallen Motors Officer Michael Katherman.
The gesture of camaraderie helped ease the strain felt by the San Jose police department and ensured that citizens were protected while thousands of police officers from San Jose and throughout the nation attended the services.
The funeral was a fitting tribute to Officer Katherman, a highly-regarded motors officer who was killed in an on-duty accident last Tuesday.
Several hundred motorcycle officers, most from throughout California, attended the ceremonies, creating a funeral procession that extended for several miles as Officer Katherman was taken to his final resting place in the city of Gilroy.
Photos via ktvu.com
-SUPPORTINGCOPS.ORG
Help support the men and women who protect and serve by donating or joining now! Americans in Support of Law Enforcement is a nonprofit organization and your donations help keep us up and running.